<![if !vml]>

<![endif]>
Gatlinburg, Tennessee and the Great Smokey Mountains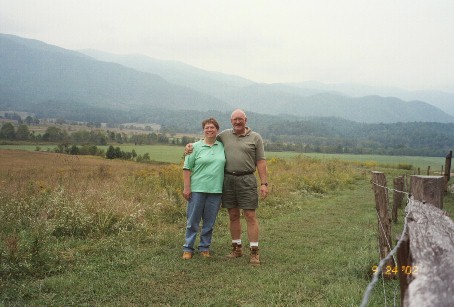 Cades Cove, Tennessee in the Great Smokey Mountains Park.
We took this picture with the timer and the camera setting on a fence post.
We are pretty simple folks. We don't travel to exotic places or perform bizarre, extreme sports. We do like the outdoors, nice scenery and comfortable places to stay and eat. In September 2002 we visited Gatlinburg, Tennessee and the Smokey Mountains. The AMA (American Motorcyclist Association) magazine had an article about touring on the roads less traveled in and around the park and this appealed to us.
Our main purpose for coming to Cades Cove was to ride out of the park to Highway 129 via the Parson's Branch Road. The picture on the left is on Forge Road which leads to Parson's Branch. Parson's Branch Road is narrower and in more severe terrain than this. The AMA article touted it as a road less traveled and we intended to cross it on the Goldwing and loop back to Gatlinburg on the "Dragon", as Route 129 is known.

The local ranger did not share our enthusiasm and when she asked what kind of tool kit we were packing prudence took over. We made the trip all right but did it in our 4 wheel drive Jeep instead. Hindsight says that was probably a good decision.
We have stated a preference for quiet, comfortable lodging on a budget that leaves room for other things, like good food.

We had not been to Gatlinburg before this trip and didn't really know what to expect. That is one reason we decided to start this web page, to help others in the same boat.

Even talking to friends who had been to the area didn't help much and we were left to pick our room from the avalanche of brochures that came in response to an internet inquiry.

We thought we were very lucky to have picked Brookside Resort as our first choice. This is a view from the rear balcony and you can see that it over looks a splendid, quiet mountain brook.
The room itself was generous in size and included a small refrigerator. The quality of the bathroom, always a concern away from home, was super. It was all tiled and the joints were well done and carefully caulked. If you have been in budget based bathrooms you may understand that not all of them are esthetically pleasing. I regret that I don't have more pictures of the front to post but the setting of the resort was beautiful. (We were taking both video and still pictures so I have learned that you don't always have what you think you have when you are back home. I hope to improve that on future trips.)
Gatlinburg sets in a narrow valley and most of the real estate is crammed tightly together. Brookside resort sits just off of the main road through town and is situated on its own park-like 10 acre plot, but is still very convenient to the rest of town.
As for Gatlinburg itself, well it's a resort town. There were large crowds thronging the downtown shops and it was fun to mingle and people watch. The shopping was another story. We found precious little of the handmade crafts we had expected and the bulk of the offerings were imports, mostly Chinese. To make a short story short, you could do quite as well in your local Wal-Mart or favorite shopping mall.
Just up the road from Gatlinburg is the thriving resort town of Pigeon Forge. T-Shirt shops, Go-karts, amusement parks, restaurants and helicopter rides abound. Honestly, this just isn't our bag. It appears to have great appeal for the younger set and that is fine but we don't have much to say about it because we don't go there. Let's go to the park instead.
The Great Smokey Mountain National Park is amazing to a flatlander like me. The scenery and geography are awesome to behold. Just inside the park, about a mile from the hustle of downtown Gatlinburg is the Sugarland Visitor's Center. The road splits here and the southern leg runs about 24 miles through a beautiful gorge along the Laurel River to Cades Cove. The trip is fantastic with the mountain walls rising steeply on both sides of you. There were miles of road where you could reach out one window and touch the mountain side and spit in the river out the other. Then we kept seeing small parking areas, big enough for three to five cars every half-mile or so. It wasn't long before we learned that these were access points for the fly fishermen who were plying the waters for trout.
If that trip wasn't scenic enough the vista entering Cades Cove was. This is a small valley nestled in the mountains and was once a thriving, self-sufficient community of settlers. What a pretty place. The picture at the top of the page shows it best. Of course our purpose for going there, as we said, was to pass on through to the connection to Parson's Branch Road and drive it eight miles to Highway 129 (The Dragon).
While the ranger talked us out of driving the Goldwing over the rather severe gravel road we still wanted to see it. Parson's Branch was better seen from the Jeep, I must admit. While I was a little disappointed not to be able to ride the Dragon on the bike, after Jenny saw it I she told me I could go back alone if I wanted to ride it. This eleven mile stretch of 129 reportedly has over three hundred turns. It is a world famous Mecca for sport bike riders and now I see why. When I read in the American Motorcyclist that third gear is plenty I was skeptical but I see now why they don't give many speeding tickets here. I assume the speeders get winched out if they can find them, not ticketed.
We did get to ride the bike while in the Smokey Mountains, just not as much as we would have liked. This picture was during one nice ride up and over the trail called the Roaring Fork Motor Nature Trail. It was a narrow, one-way asphalt road that included spectacular drop offs on the down hill side.

The day we took the Jeep out of the park to "The Dragon" (as this section of Highway 129 is known) we took this picture of Chilhowee Dam, far below the highway. You can get a feel for the nature of the twisting road that runs 11 miles through these mountains to Deals Gap.

As we continued back to Gatlinburg on the Foothills Parkway we snapped this. The Parkway, contrary to its name, runs along a spine or ridge and affords spectacular views off both sides of the road as you travel.

Unfortunately, shortly after this a heavy rain enveloped the area and pretty much ruined our visit to Clingman's Dome, the highest elevation in the park at 6,643 ft. above sea level. We made the drive but the advertised commanding view was limited to the confines of the parking lot. Oh well.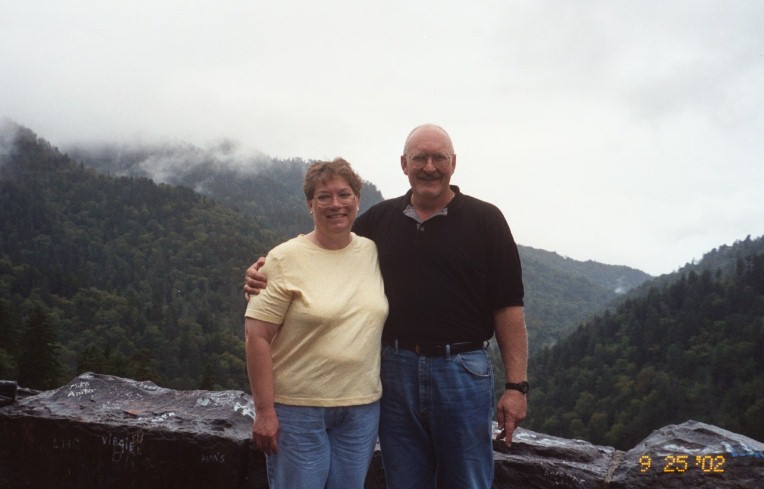 On an overlook on the way into the park heading for Clingman's Dome. Every foot higher brought thicker clouds until we were completely socked in and a light rain began to fall.
---
We would like to share ideas or hear comments...especially about our favorite subject of motorcycle touring. This is our E-MAIL link. Thanks!
---